Greater Houston Area Pressure Washing Company
Here at American Pressure Solutions we pride ourselves on using only the best products and equipment as well as providing the best long lasting results. We are a family owned and operated exterior cleaning company that specialize in soft washing, but we also offer pressure washing and power washing depending on the needs of our client and there property.
When you choose our company you're not only making the clear choice you're making the safe choice. With our professional technicians that use the correct equipment, detergents and safe pressure, we make sure to go above and beyond to surpass your expectations of the results and customer service you expect.
We know it can be hard finding the right exterior cleaning company but here at American Pressure Solutions we provide nothing but the best from our appearance or our equipment. We are uniformed, trained, have the top of the line equipment for any job you could need done. Here we don't cut cornered or bend the rules. We are licensed and insured to ensure our customers peace of mind.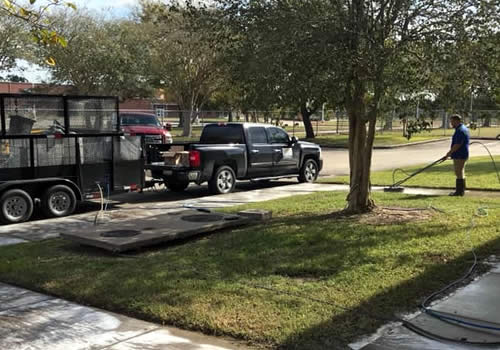 Since our founding, We've worked with numerous clients throughout the Houston area. Great service begins and ends with experience and friendly professionals, which is why we put so much consideration into selecting only the best to join our team. We have the experience and skills necessary to tackle just about every type of job that comes our way. With American Pressure Solutions, clients know exactly what to expect - professionalism, efficiency and exceptional results because our goal is to form lasting relationships with our clients.
WHY CHOOSE US?
We have spent years perfecting our techniques and continuing our education on the industry and best ways to give our customers the safest long lasting clean their property deserves. We go the extra mile to ensure NO damage occurs to your property or its surroundings. We never cut corners that is why we are licensed and insured to ensure a professionally operated business, protect our customers and ensure their peace of mind.
Here at American Pressure Solutions we believe knowledge is key in properly maintaining your exterior surfaces so we are here to take the time to answer any questions or concerns you may have. We think every homeowner should know how every exterior surface affects the other and how to protect your investment.. So take the time to go through our tabs and sections to learn more about maintaining your exterior surfaces and why we are the safe smart decision and why you don't want to wait any longer.